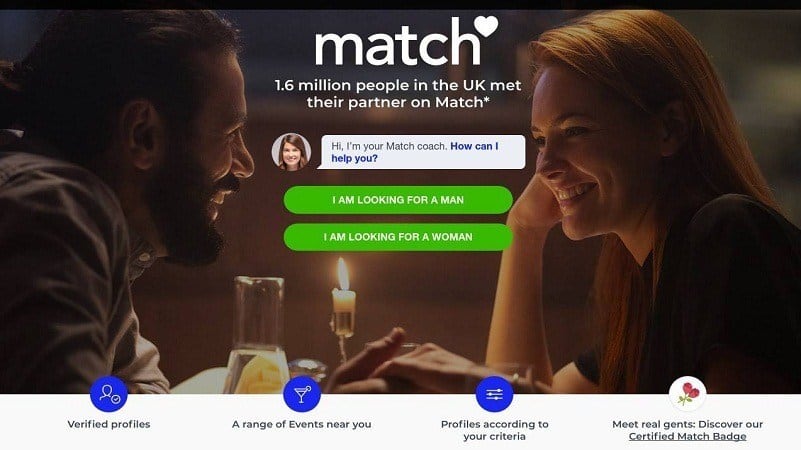 Having been created in the year 1995, Match is one of the largest and oldest dating services on the Internet. Match.com serves users from over 24 countries and hosts its websites in 15 languages. Users create profiles and describe themselves and what they are hoping to find in the people they might date. These profiles and other tools are key to finding that special person.

Match.com Filters
The match is a pretty self-explanatory site/app. Its search tools allow you to narrow down the dating field to people who meet your standards in terms of distance, personality, looks, interests, and lifestyle. You can also filter the results to show only profiles that have photos or are online now. And you can search by keyword. Additionally, Match offers unique Reverse Match and Mutual Match filters. Which curates a list of profiles that are looking for someone like you.
Recently, Match has implemented innovative Verification tools to allow users to build trust on the dating platform by connecting through a valid social media account. Match will give users a badge that shows up on their profiles if they verify their Facebook accounts, email addresses, phone numbers, Twitter accounts, and other social media profiles. This is a completely optional feature, but it can help you build credibility with potential love interests.
RELATED ARTICLE: YourTravelMates.com
Frequently Asked Questions
Is it worth it to buy a match.com membership?
Absolutely! Is worth it to buy a membership of match.com. Match.com helped pioneer the online dating industry and now serves 24 countries and territories and hosts Web sites in 15 different languages.
How has Match.com worked for you?
Match.com gives away a good deal of its features for free. Match com has developed lots of innovative ways for its members to meet up and get to know each other, and this might be what really sets them apart from other online dating services.
What is a hidden mode on the match?
Hidden Profile - Selective Visibility. Match now offers a paid feature called Private Mode that allows you to selectively hide or make your profile visible to specific members.
Does match make fake profiles?
According to the Match com online dating class action, users only learn that the profiles are fake after they pay for a subscription. ... In reality, the messages are allegedly from fake profiles and a ploy to get users to upgrade to paid services.
How to create profiles on match.com?
To create your profile, just sign in and click on your primary photo thumbnail at the top of any page and start answering the questions. The profile survey is also where you can add a photo to your profile.
Is Match.com free?
Download the app and set up a profile for free. It's a free trial after that you need to pay. Only paid subscribers can read/send messages or see who's viewed their profiles. Members can attend local Match Events if they feel burnt out on online dating.
Is match.com better than other sites?
Depends. Who are you and what are you looking for? Match com is a dating site for singles to meet new people. It is one of the oldest dating sites. Only Joining is free otherwise you need to pay for other features and services. The match is time-consuming to search through all the choices, features, and matches. Both the website and mobile app of Match.com have a clean and straightforward design.
Is match.com worth it?
Match.com is an old dating website on the Internet. They have more than 4,000,000 members from the USA, Over 20 million members worldwide. They offer a guarantee that if you don't find your ideal match in six months, they will give you an additional 6-month membership for free.
What is the joining fee on match.com?
Match com has two kinds of monthly membership plans, the Premium, and the Standard. In the Premium and standard plans, you subscribe for 3, 6, and 12 months. You can also buy Credit to view massages 1 Credit cost will be 0.99 USD, 5 Credit cost 4.00 USD, 10 Credit cost 6.00 USD.
Can I trust on Match.com?
Match.com has over 20 million members worldwide. So there are lots of fake and/or extremely old profiles that were no longer in use but more than 7 million paid users are there so you can try your luck with these members. Both the website and mobile app of Match.com have a clean and straightforward design. Match.com has these special features for its members like Boost, Reverse Matches, Likes, Match Phone, Match Me, Match Guarantee, etc.
Website: https://www.match com
Phone Number: +1-214-853-4309
Address: P.O. Box 12305, Dallas TX, 75225
Reviews
Same as all the rest reviews it's a scam
Same as all the rest reviews it's a scam. Save your money it's all fake. Leave it to the Latvians and we're idiots and sad sacks for wanting to believe this crap.
Bots bots bots bots!
Bots bots bots bots! There is no genuine user here! They keep saying they make sure the 'community is clean',when am pretty sure they either coded the bots or allowed them from porn websites. Pathetic app! Don't even think of paying a subscription or installing the app unless you want to chat with bots leading others to porn websites and getting liked every 5 seconds
This company is the biggest RIPOFF
This company is the biggest RIPOFF on the Internet. It's nothing but a marketing scam!!!! DO NOT JOIN THIS SERVICE!!! UNLESS YOU WANT TO BE RIPPED OFF. This service gives you the same messages and likes over and over and DOES NOT follow your requests!!!!
Crappy site!
Crappy site! Not worth a dime. Their matching algorithm is filthy with no regard to your search criteria. The reply rate is 1-2%. The overall vibe is awful. You just waste your time and money on drama queens and busted cans of biscuits here. I've had enough of this. It is geared to rip you off. To add further fire to the flames they charge you for 6 months right away and you can do nothing about it because they indicate it somewhere in their hidden sophisticated fine print.
Worst Dating Site
I have been on this site for a few months, and haven't once seen a profile that matches my preferences, ethnicity, or distance. Seems they just roll the dice and throw in random people from wherever. This company needs to be reported. I will be looking into contacting news stations, so they can do some investigating reporting.
Total waste of time and money
Run from this site it is a total waste of time and money
No support
Met a guy who I thought was really special. Took some personal information from me and than tried to scam me for money to the tune of £4,000. Have reported to police. Its clearly have no vetting system. The personal support I received when reporting the scam was diabolical. No support or empathy.
I wouldn't recommend this site
The app needs investment, it's slow, clunky and glitches frequently when going through daily wild card matches, which means you seem to get the same person over and over again rather than 13 new people. It seems very old fashioned in comparison to the free sites such as Tinder, which is crazy given the amount they charge for this site. I wouldn't recommend this site, save your money.
Stay away from this site.
Stay away from this site. It's full of fake accounts and all messages you receive and all chats are with bots. Bots, bots and more bots! Can't get any worse!
Scam scam scam
Scam scam scam. When they don't send you to every other affiliate site of theirs and continue to charge you. The woman on the site send you to bs bogus dating card sites that cost anywhere from $150 to $400 and or request you to get $600 per two night bs hookup rooms. Just a bunch of money mules here
Horrible experience
Awful app. Horrible experience. After using the app for two days (and not sending any messages or even matching with anyone) I received a message to say I was permanently blocked due to my 'behaviour'. I cannot possibly imagine how I could have violated guidelines without actually communicating with anyone. I'm a respectable 45 year-old woman, so perhaps this site thinks I'm expendable. However, I found the whole experience rude and upsetting. It's shocking that they claim to be founded on principles of 'respect' when they can treat people so badly.
So disappointed
So disappointed and think this is a fix. I joined this site about 1 month ago – did not subscribe, got lots of emails telling me how lucky I was and what a huge amount of interest I had! Guys were viewing my profile, every day for 3 weeks it told me I had at least 8 visitors. So I spent just over £32 for a months subscription. Four days, not one view on my profile!! Very disappointed! I wish I'd read the reviews here and saved myself some dosh. Thanks for nothing!!!
The site is awful
The site is awful. If someone likes you and they don't have an account, you'll get a message from them. That's how they get the commitment. You will then find that the message is generating a CPU. When you contact that person, you either don't answer or say they haven't contacted you.
Complete waste of time
Personally, I have to eliminate multiple fake people every day which results in a complete waste of time. People go to this site to find a partner, but what they get is a bunch of fake accounts that claim they want to know you but end up trying to get your email and other types of information.
It's a lot of fake people
It's a lot of fake people here just want to text and never meet you, but finally I found a really gentlemean and I have a beautiful and honest relationship, Thanks
So far... So Good
Most of the people seemed to be truly looking for a relationship… Most of the people were respectful and there were some good catches… I liked the systems they use on this website… And I've met a really good guy… And I hope things will really work out well between us… So far… So Good.
Don't fall into the trap!
A very unpleasant experience … don't fall into the trap!
Very fake e-mails
Very fake e-mails from robot women. What a joke! I paid real money to communicate with fake profiles.
Worst dating site EVER
Worst dating site EVER. Full of FAKE Profiles. Profiles manipulate their location, say they are in your city only to view their pic with them advertising a phone # from another country.
This site is nothing but scammer after scammer.
This site is nothing but scammer after scammer.
Thank You dear
From the first time i saw this woman. I knew that we would hit it off, Just a feeling and i was right . Thank You dear from both of us .
Biggest fan
I have become the biggest fan of this site.
I married my sweetheart
I married my sweetheart, a man I would never had met if this site did not exist. Love this site. Thank you thank you thank you!
It is an wonderful website
It is an wonderful website and really loved the idea. I'm happy to visit such sites and make my time worth it.
Excellent site and service
Excellent site and service. For international dating this site is the most serious I have come across so far.
Great site
Great site with mostly genuine people. The way they match you saves a lot of time wasting and really gives both sides a chance of meeting someone they really want to engage with.
The app is very easy to use
The app is very easy to use. I was a Member for 1 yr and had plenty of inquiries throughout. I paused my account numerous times and had even cancelled but restarted my subscription. Each time was very easy and seamless. I FOUND SOMEONE!
Be careful!
This site is bad for anyone. Be careful!
I am really grateful for her!
Everyone wonders if online dating works or not. And I can say that it really works. I have met so many amazing people here and we are such good friends now, and I have also found a long term girlfriend. She is far away now as she has to finish her education, but I am really grateful for her!
I'll be eternally grateful to this site!
I wanted to find a nice girl to settle down with and create a family. This site helped me achieve that, and I'll be eternally grateful to this site!
This amazing lady
This amazing lady contacted me and we hit it off immediately. There really are women out there that are looking for a real relationship and, thanks to this site, we connected.
Thank you!
The very first person I met off of this website was a who they portrayed themselves to be online and was even better in person than they appeared online. I am looking forward to getting to know him even better. Thank you!
Its a good site
Its a good site I would use it again its a well thought out site and good service I really liked the constant updates that had been provided to me it kept things interesting I like this site
Take your money and run.
I subscribed. Found I was matched with only a few people I didn't fancy and you can't see anyone else. So tried to cancel but you can't find an email address or a telephone number as the site takes you around in circles. To cancel you have to WRITE A LETTER to Germany. Seems highly dodgy to me – like a company who want to take your money and run.
STILL WAITING FOR MY REFUND
STILL WAITING FOR MY REFUND. I did not consent to a renewal.
Very disappointed!
Felt like I was just scammed. Very disappointed! Requested a refund only after a couple days and they would not even budge as a courtesy.
DO NOT WASTE MONEY ON Match.com!
DO NOT WASTE MONEY ON Match.com!!!! Liars! They sent me profiles of losers and wants me to pay AGAIN to open profiles. Disgusting scammers. The worst dating site you could ever encounter!
It's a scam & garbage! stay away!
I also wish i could give this negative stars! It's a crap site with the biggest collection of creeps online! I wasted my money believing their fake google reviews and bought a 3 month subscription to then learn I have to "earn coins" to get the contact info of people i'm paired with, etc. It's a scam & garbage! stay away!
Absolute Fraud.Believe me
Absolute Fraud.Believe me!!! Very expensive and they will charge you for each message.Stay away.Now, the site has contacted me for more information after writing this, I will explain in detail.The critics of this site are giving hard facts.As soon as I took the promo of 2.99 GBP, they tried to withdraw 96 GBP, so the bank contact Ed me and blocked it.The customer care is worse, interested in taking money but the response takes a week.I paid for 20 credits each between 24 hours as I didn't get service and still no access but the money is gone.The good reviews here are doubtful as anyone can post here.I have solid proof and the services are not worth the amount.Keep away if you don't want to be bankrupt.
STAY WELL AWAY FROM MATCH
When I signed up to Match. I put in my preferred search age, geographics ie within 20 mile radius. I thought as I had paid nearly £40 to join for a month. That they would match on my preference. How wrong was I… in no time contacted by people all over Europe. When I complained to Customer Services that I signed up to a UK website and there was no reference anywhere in the website that I would be contacted by Europeans. Their reply was once you paid you could have upgraded your preferences at an additional cost in an additional package and that this is listed as a filter option so doesn't have to be in the Terms and Conditions. They are basically taking money under false pretences. Don't be fooled into believing they will give you what you paid for. My advice STAY WELL AWAY FROM MATCH UK…. it's more like European monopoly.