Introduction
In the ever-evolving landscape of online dating, LavaLife stands as a pioneering platform that has been connecting people for over two decades. Founded in 2000, this Canadian-based dating website has been a steadfast presence in the digital dating sphere. LavaLife has continuously adapted to changing trends and technologies, making it a reliable and enduring choice for singles seeking meaningful connections. In this article, we will delve into the world of LavaLife, exploring its history, features, and the impact it has had on the online dating industry.
Chapter 1: The Genesis of LavaLife
LavaLife was conceived by four entrepreneurs: Bruce Croxon, Nick Paine, David Chamandy, and Ed Lum, who shared a vision of creating a dating platform that would provide diverse options for singles to meet and interact. They aimed to bridge the gap between casual dating and long-term relationships, catering to a broad spectrum of daters. This vision laid the foundation for LavaLife's unique approach to online dating.
Chapter 2: A Tri-Focus Dating Platform
One of LavaLife's distinguishing features is its tri-focus approach. Unlike many other dating platforms that specialize in specific types of relationships, LavaLife offers three distinct communities within its website, each tailored to different dating preferences:
Dating: This section is for those looking for casual encounters, fun dates, or exploring their options. It provides a relaxed environment for users to connect and meet new people without the pressure of long-term commitments.
Relationships: Geared towards individuals interested in finding meaningful, long-term relationships, the "Relationships" section encourages users to delve deeper into their compatibility and shared interests.
Intimate Encounters: Catering to those seeking more explicit and adventurous encounters, the "Intimate Encounters" section offers a space for open-minded adults to explore their desires.
This tri-focal approach has been one of LavaLife's strengths, as it accommodates a wide range of dating preferences and allows users to find like-minded individuals.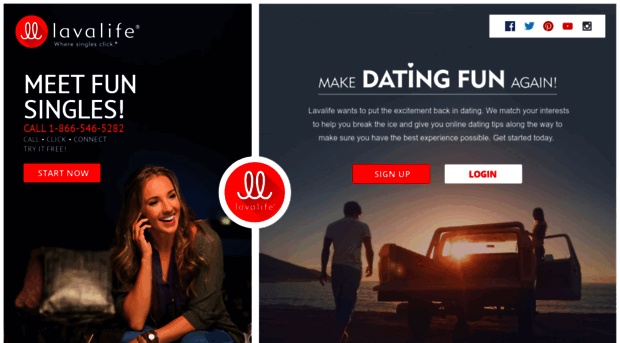 Chapter 3: User Experience and Interface
LavaLife's user interface has undergone several revamps over the years, adapting to the changing expectations of online daters. The platform is user-friendly, with a clean and intuitive design. Registration is straightforward, requiring users to provide basic information and preferences.
Once registered, users can create a detailed profile, including information about their interests, hobbies, and what they are looking for in a partner. The profile setup process encourages users to showcase their personalities, which can help in finding compatible matches.
The search and match features are robust, offering various filters and preferences to help users find potential partners. These features include location-based searches, advanced keyword searches, and the ability to save favorite profiles for future reference. LavaLife also provides daily match suggestions, making the dating process more convenient for its users.
Chapter 4: LavaLife Mobile App
Recognizing the growing trend of mobile dating, LavaLife launched its mobile app, ensuring that users can connect with potential partners on the go. The app is available for both iOS and Android devices, offering a seamless experience for users who prefer using their smartphones or tablets. It includes all the essential features of the website, making it convenient and accessible.
Chapter 5: Safety and Privacy
LavaLife places a strong emphasis on safety and privacy. The platform uses encryption technology to protect user data and employs a strict verification process to minimize fake profiles. Additionally, users can report any suspicious or inappropriate behavior, and LavaLife takes such reports seriously, promptly addressing any issues that arise.
Chapter 6: Success Stories
Over its long history, LavaLife has facilitated numerous success stories of couples who found love and companionship through the platform. These stories stand as a testament to the effectiveness of LavaLife in bringing people together from diverse backgrounds and interests.
Chapter 7: The Influence of LavaLife
LavaLife has played a significant role in shaping the online dating industry. Its innovative tri-focus approach paved the way for other dating platforms to diversify their services and cater to a broader audience. Additionally, LavaLife's enduring presence in the industry highlights its ability to adapt and evolve in response to changing user preferences and technological advancements.
Chapter 8: The Future of LavaLife
As of my last knowledge update in September 2021, LavaLife remained a reputable player in the online dating scene. However, the industry is constantly evolving, with new players and technologies emerging. The future of LavaLife will depend on its ability to continue adapting and staying relevant in a competitive market. This may involve further updates to its platform, enhanced mobile features, and continued emphasis on safety and privacy.
What is LavaLife?
LavaLife is an online dating platform designed to help individuals connect with potential partners, whether for casual dating, serious relationships, or friendships.
How do I sign up for LavaLife?
To sign up for LavaLife, visit our website and click on the "Sign Up" button. You'll need to provide some basic information, create a profile, and choose a subscription plan.
Is LavaLife free to use?
LavaLife offers both free and premium subscription options. While you can create a basic profile and browse profiles for free, premium features like messaging and advanced search options require a paid subscription.
What types of relationships can I find on LavaLife?
LavaLife caters to a variety of relationship types, including casual dating, long-term relationships, and friendships. You can specify your preferences in your profile to match with like-minded individuals.
Is LavaLife safe to use?
Yes, LavaLife takes the safety and security of its users seriously. We have measures in place to protect your personal information and offer guidelines for safe online dating. However, it's essential to exercise caution and follow safe online dating practices.
Can I use LavaLife on my mobile device?
Yes, LavaLife offers a mobile app for both iOS and Android devices, making it convenient to access your account and browse profiles while on the go.
Chapter 9: Conclusion
In the realm of online dating, Lava Life stands as a timeless platform. That has connected countless lives over the past two decades. Its tri-focus approach, commitment to user safety, and adaptability have contributed to its enduring popularity. While the online dating landscape continues to evolve, Lava Life's legacy remains, reminding us of the profound impact it has had on connecting people from all walks of life. Whether you're seeking a casual date, a meaningful relationship, or an intimate encounter, Lava Life remains a reliable option for those looking to connect with others in the digital age.
As with any online platform, it's essential to exercise caution and prioritize safety while using Lava Life or any other dating website or app. Always be mindful of sharing personal information and meet potential partners in public places for the first time. Online dating can be a fun and effective way to meet new people, but it's essential to use these platforms responsibly.