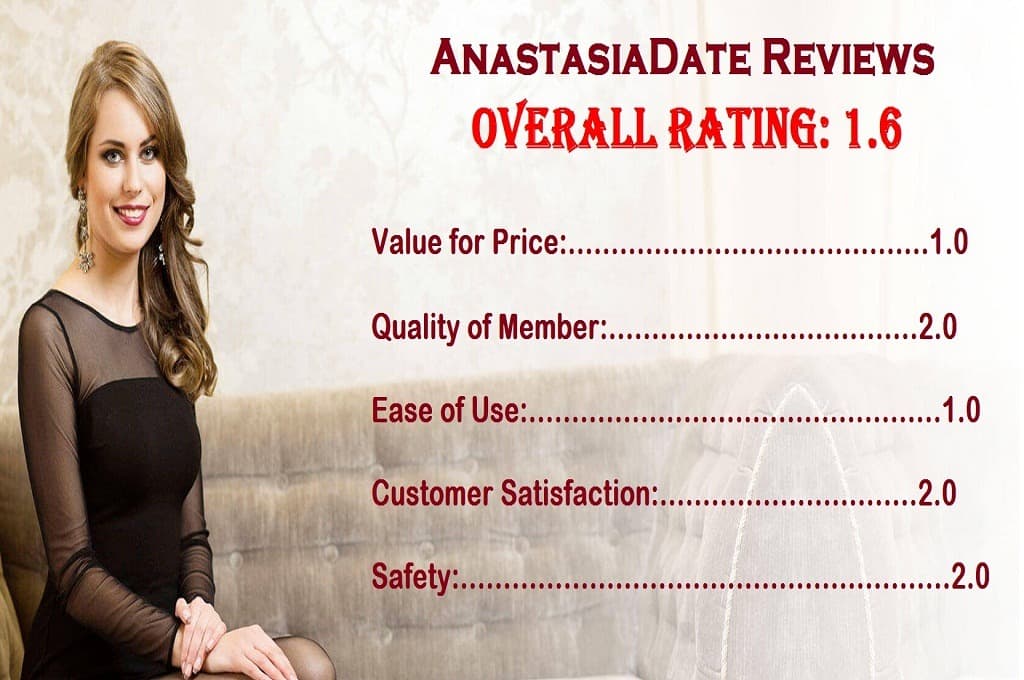 AnastasiaDate.com Reviews is the best and Genuine Place that Provide Online Dating Service.
       1.6/10     Overall Rating
---
              1.0                    Value for Price
---
              2.0                    Quality of Member
---
              1.0                    Ease of Use
---
              2.0                    Customer Satisfaction
---
              2.0                    Safety 
---
Pros & Cons
Pros 

              
---
+ Good for passing time
---
+ You may get to chat with Russian beauties
---
+ 1 out of 10 genuine
---
Cons
---
– Money Money Money!
---
– People are fake
---
– Site is a scam
---
The Review
Editor's Summary
Well if you are hoping to find something genuine about anastasiadate.com on this AnastasiaDate.com Reviews, you are mistaken! You are just going to waste your time and money registering on this site. It's a big whole scam where you just keep on spending money and there is no end to it!
In-Depth
Sign Up Process
Well, get ready for the ride of your life. A ride you will never forget because let's face it: you are going to pay a lot of money for this! Initially, you will be enjoying a free ride and finding the right person you can speak to! But once you start chatting, that's when the gamble starts!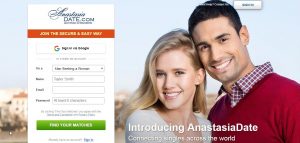 Members and Messaging
When you register on this dating site, you will be happy to know that there are no charges what so ever! But when you start chatting with people, you will be asked to buy credits in order to access any feature. Whether you wish to send an email, video chat or set up a date with the woman, they need money from you!
And even after fighting with so many hurdles, there is no sure assistance that you will rescue your princess! So basically you are the Mario Bros who is trying to rescue his princess, but every time she is in a different castle. And every castle will cost you money too!
Key Features
Virtual gifts to your date, which of course you need to pay for!

Video chat feature, that you need to buy credit for!

Date setup feature, get ready to lose your money on this!
I mean what's the need for all this? Why not just chat in real life may through social media platforms? At least you know, people will not be sham there. You can talk to them freely without being traced on some shady dating site.
I would rather send a huge bouquet of flowers to the girl's office if I just know where she works, that's where social media is best!
Safety and Security
Let me just put it this way! How do you know whether the woman you are chatting with is actually real and not a paid actor? How do you know whether the emotions and feelings you are sharing with her are actually not going into a robotic response?
If you are in dilemma answering these questions, well then, of course, the site is not secure and safe enough. And well, it's the same for women around the world using this platform. What if your video chat with them, and the next thing you know is that you are popular in some weird sites already! I mean think over it!
Spending money on buying credits just to read a letter from another woman sounds really fake to me. And why would I pay for translation when I myself can read and write Russian properly. It's insane!
RELATED ARTICLE: Eliminate Your Fears and Doubts about Online Dating
Main Competitors
Pricing
Mean Price Per Option
AnastasiaDate.com Reviews doesn't use a regular month-to-month part structure. Or maybe, customers buy credits to have the ability to get to all of the features of the site. For example, to examine or communicate something explicit or see a video, a section ought to surrender 10 credits. 
---
20 Credits                                                                                                                                                               $15.99
---
40 Credits                                                                                                                                                               $30.00
---
80 Credits                                                                                                                                                               $56.00
---
160 Credits                                                                                                                                                             $96.00
---
320 Credits                                                                                                                                                            $185.00
---
500 Credits                                                                                                                                                           $249.00
---
1000 Credits                                                                                                                                                         $399.00
---